Prairie hospitality was at its finest when special guests from Maui, Chef Lyndon Honda from Sheraton Maui Resort & Spa, Chef Tom Muromoto from Ka'anapali Beach Hotel, Shelley Kekuna and Charlene Kauhane from Ka'anapali Beach Resort Association arrived in Edmonton and brought a heatwave from the islands. Chef Lino Oliveria and Christian Mena of Edmonton's SABOR Restaurant were eager to greet the group after a fun-filled few days in Maui earlier this year when Chef Lino was invited to Ka'anapali. The cultural exchange resulted in a beautiful friendship that lead to a first time trip for the chefs to central Alberta.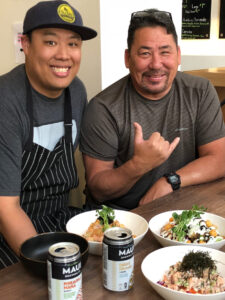 First stop was to visit Chef Lawrence Hui of Ono Poke Co. who trained with Chef Tom last year before opening the charming little poke shop. A very sweet moment to see this collaboration come full circle and share the little pieces of Maui throughout the space including his picture on the wall and poke bowl named after him. More pics from our visit here.
Next, shopping at the City Market Downtown where the chefs picked up local jams, sauces, liquor and wild game jerky to take home to the islands as well as ingredients for a farm dinner and media event.
For dinner, a visit to award-winning RGE RD. to experience locally raised beef, bison, duck, pork both cured and butchered onsite. Chef Blair Lebsack showed guests his butchery area and aging cuts of meat. Check out what we ate here.
On Sunday, a visit to Global Edmonton was on our schedule – it was great to have Chef Lyndon and Tom's Canadian tv debut with such pros like hosts Kent Morrison and Kevin O'Connell. We always have a blast in that studio.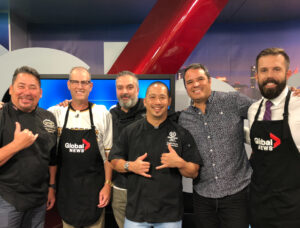 After a delicious brunch at Bodega 124 – with the chefs in tow, we headed over to Gold Forest Grains to prepare for a farm party that will go down in the books as being one of the most epic gatherings ever to be hosted on the property bringing chefs and producers together. Calgary chefs Roy Oh (ANJU), Eric Hendry (Bar Von Der Fels), Rogelio Herrera (ALLOY), Julie Van Rosendaal (Dinner with Julie) and Gino Marghella (Italian Centre Shop) made the trek north and joined Edmonton chefs Blair Lebsack (RGE. RD), Victor Hugo (BUCO), Lawrence Hui (ONO Poke Co.) to prepare dinner alongside the Maui chefs using ingredients from farmers and producers in Sturgeon County.
The incredible menu was one fit for a king! Meatcentric and extraordinary…
Blair Lebsack & John Schneider – Bear a la Ficelle (bear on a string)
Eric Hendry – Handmade tomato leaf pasta in parmigiano-reggiano pepper sauce
Victor Hugo – Barbacoa lamb leg tacos with Morita chilli sauce and hand pressed tortillas
Gino Marghella – Parmigiano-Reggiano wheel
Lawrence Hui – Roast whole pig
Roy Oh – Galbi-style tomahawk ribeyes
Chef Lyndon – Bear fat SPAM fried rice, Kalbi-style moose heart, Smoked Bear w/ Taro Leaf Sauce & Lomilomi Salmon
Chef Tom – BBQ pork ribs
Lino Oliveira – Grilled Piri-Piri Prawns
Julie Van Rosendaal – Haskap berry galette Mixed berry and rhubarb galette
Rogelio Herrera – Bison tartare
Farmers and producers included: Manawan Farms, Rosy Farms, Mountain Meadows, Peas on Earth, Lakeside Dairy, Sweet Dee's Honey, Prairie Gardens, and Dark Sky Distillery.
Find more pics from this beautiful evening at the farm here!