It's the most wonderful time of the year!
For 8 years (and counting) The BONAFIDE BOX is our time-honoured tradition and symbolic of how we build and maintain relationships throughout our growing community.
Each year, we reflect on powerful stories that have been shared with us alongside the stories we've had the privilege to tell. As a token of our gratitude to storytellers, amplifiers and those who helped make our 2023 a success, we produce the BONAFIDE Box to showcase the work we did with our clients and a few locally-made products we'd discovered throughout the year. For us – it's filled with memories and gratitude to our network over the past year, and for recipients – it's our hope these wonderful products make their way into your hearts, pantry and tummies the way they have with ours.
There's much to be proud of this year! We…
Curated a box of Alberta-made products for the Marilyn Denis Show's 10 Days of Giveaways Holiday finale during her final season
Were invited to be on a judging panel for Canada's Best 100 Restaurants again and experienced incredible restaurants in Vancouver, Whistler, Toronto, Penticton and Victoria
Supported the launch of Edmonton's first-ever Feed The Soul Dining Week – featuring 18 Black-owned restaurants and makers
Crossed the border with our annual visits to New York City and Phoenix to visit clients and pitch media 
Hosted the opening of the 6th BODEGA Tapas Bar by SABOR located in Ellerslie with Christian Mena and Chef Lino Oliveira
Welcomed Calgary's Vine Arts to our roster to support the opening of their first Edmonton location
Celebrated A Cappella Catering's expansion into restaurant management with the re-opening of  Prestons in Edmonton's Coast Edmonton Plaza Hotel
Supported Italian Centre Shop's community initiatives with the Calgary Flames, SAIT Hospitality and the kick-off to the Shop's first-ever Festival of Cheese
Launched Jolene's Tea House x Park Distillery's Banff Cocktail Trail and saw it placed in TASTING CANADA, a 36-page insert in the October issue of Food & Wine 
Had the opportunity to share stories around my role in culinary marketing at FoodSpark in Prince Edward Island, and at Career Day at my highschool alma mater, Holy Trinity in Edmonton
Another big year in the books with clients who are truly thriving. We're looking forward to another year of growth and evolution in 2024.
Thank you for always being in our corner…We continue to be so blessed.
INSIDE THE BONAFIDE BOX 2023
4th Street BIA – Calgary, AB
Pancake Showdown – Lannie Rae Gourmet Pancake Mix
@4thstreetcalgary/ 4streetcalgary.com
Hands down one of our favourite events of this year – the 4th Street Pancake Showdown is always held on the Thursday before Stampede Parade Friday and after a three-year hiatus – made a flippin' awesome comeback in 2023. For those who don't know – the Fourth Street BIA invites all members to participate in what I believe is the BEST pancake breakfast in town. This year, TEN shops, restaurants and service providers signed up, rounded up their troops and fired up a flat top to serve amazingly creative flapjacks. We added some BONAFIDE flair by producing a new brand and Stampede Guide to mark the event's comeback and recruiting a very festive judges panel including Sarah Sociable, Alanah Willerton from Avenue Magazine, Mr. Fabulous and Chef Jan Hansen from SAIT's Hospitality department. The foursome sampled all 10 pancakes while hundreds of folks lined the streets for free pancakes and cast their votes – it was a sight to be seen!
People's Choice Golden Whisk Award winner Roy's Korean Kitchen served savoury Kimchi Scallion Pancake while Overall Golden Spatula Pancake Showdown winner Vin Room took the main prize with a Souffle Pancake with Merengue and Caramel Drizzle.
We found the BEST pancake mix for our media kits – Cochrane-based Lannie Rae Gourmet and their secret recipes really made an impression! Founder Alannah Jensen was kind enough to help us get a SAVE THE DATE ready for 2024 and she's made sure you can get into the holiday spirit with a batch of Sugar & Spice pancakes. For more information on her delicious craft pancake and waffle mixes – click here.
Visit Phoenix – Phoenix, AZ
BruMate Wine Tumbler
@visitphoenix / visitphoenix.com
There's a reason why seniors flee to the Arizona desert in the winter and spend summers back home in Canada. Holy moly, is it ever HOT in Phoenix in August. With my cousin Kim in tow (who happened to be on holidays), we headed south for a 4-day weekend jaunt that gave me a chance to meet with Emma and Sarah at Visit Phoenix and talk about the new and cool things happening in the area and to better understand what it would feel like to be porchetta roasting in a convection oven. You guys, it was SO hot LOL – I will never forget that kind of heat. Thank goodness for the pool and A/C at the beautiful Fairmont Scottsdale Princess…We had the most amazing cabana time and hit up amazing restaurants like authentic Thai food at Lom Wong, the best pizza in the country at Pizzaria Bianco and Latin-inspired James Beard Award semi-finalist for best new restaurant, Vecina.
Visit Phoenix banner year with hosting the Superbowl (aka: the 18-min. Rihanna concert) and the Waste Management Phoenix Open. In 2024, expect to see three new luxury properties being added to the Phoenix hotel portfolio, the NCAA Men's Final Four mega event in early April and celebrity chef Giada De Laurentis adding a new restaurant to the area's culinary scene.
While I was melting to death over breakfast with Emma and Sarah – they hooked me up with this BruMate to keep my wine chilled whilst by the pool AND they wanted to make sure you'd be equipped with one for your next visit to Phoenix. Check out their website here and start planning! 
PARK Distillery – Banff, AB
Yuzu Orange Gin Smash
@parkdistillery/parkdistillery.com
The team at Banff Hospitality Collective has done it again with the release of ready-to-drink cocktails that are dangerously crushable. This Yuzu Orange GIN SMASH is like a mix of yuzu and orange squeezed over a rocky mountain juniper bush and thrown into a glacier water soda stream. Refreshing – yes! Addictive – also yes. With Yuzu being SUPER on-trend in the flavour department, we think these are going to be a great addition to every holiday house party…(for those who love lime over lemon – there's a Mojito version too!)
Hot Tip: PARK Distillery tours are FREE and hosted at 3pm daily. Book a spot on OpenTable and do a tasting!
Enjoy a taste of PARK's newest addition! Purchase online, at Alberta liquor stores and super cool bars and restaurants.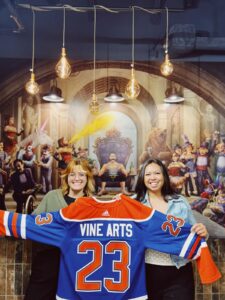 Vine Arts – Calgary & Edmonton, AB
$25 Gift Card and JAYA Chai Liquor
To say we were excited about Vine Arts' expansion into the Edmonton market would be an understatement. We were super pumped to be brought on board by Jesse Willis and Jeff Jamieson to introduce the beloved Calgary-based brand to our hometown and 'ol stomping grounds. From developing buzz-worthy media kits to share with local media, wine enthusiasts and folks we know who live in the neighbourhood to announcing their mid-September grand opening and hosting the city's movers and shakers to a sneak peek – the new shop on 124 Street is already becoming a favourite among those in the know in the City of Champions.
The team at Vine Arts have always been leaders and tastemakers in Alberta's culinary community showcasing local distilleries and makers like the fine folks at Field Notes Spirits. Founder Faaiza Ramji made headlines when she launched Sweet Pea Amaro a few years ago featuring Alberta Pulse, and just a few weeks ago – her newest creation Jaya Chai Liqueur is already a favourite of Team Vine Arts for the holiday season.
Jesse and Jeff have put together the perfect stocking stuffer to share with each of you – a $25 Gift Card to use at any Vine Arts location AND Jaya Chai Liqueur to create a cocktail for you and a friend. With Chai being a symbol of hospitality – we're all sending good vibes your way for entertaining!
Feed The Soul YEG – Edmonton, AB
Lapel Pin & Travelling Dishes Chin-Chin Poppers
@feedthesoulyeg / feedthesoulyeg.ca
One of the greatest gifts the universe brought to me this year (ok, it was Linda Hoang who made the intro) was crossing paths with Rochelle Ignacio who taught me so much this year about community building, Black culture, balance and wellness. When Rochelle asked if I'd join her committee to launch the first-ever Feed The Soul Dining Week in Edmonton – it was an absolute HELL YES and holy smokes did we knock it out of the park. We helped to facilitate partnerships with SABOR, Sea Change Brewing Co., Virgin Radio Edmonton and Le Creuset Canada, booked 20 media interviews/appearances, two morning show cooking segments and six incredible small business profiles that ran as part of a series on CBC Edmonton.
The biggest highlight was hosting a media launch featuring six participants in Feed the Soul Dining week serving up the most delicious food to 125 media and VIPS. With a steel drum band welcoming guests, Melafrique performing and special appearance by Mayor Amarjeet Sohi – it was an unforgettable Sunday afternoon gathering filled with so much joy and connection. In true BONAFIDE form – a parting gift was presented to each guest featuring products from Black-owned businesses including MojojoPickles, Buff Experts and Token Bitters.
When Avenue Magazine put their call out for the MADE IN ALBERTA Awards – I connected with Seun and Dupe Adedeji from Travelling Dishes Catering about submitting their Chin Chin Poppers (they were a hit at the media launch) and guess what?? They were named runner up in the sweet food category!
The gals from Feed The Soul YEG wanted to share a lapel pin to encourage all to support Black-owned restaurants throughout the year and to try something new, so please enjoy these Nigerian treats – Chin Chin Poppers!
HelloAmino – Calgary, AB
Banana Bread Mix
One of the greatest things about producing the BONAFIDE Box is how excited our networks get about it! I love it when people come to me with BONAFIDE Box-worthy product suggestions…That's actually how we learned about HelloAmino. My dear friend Lindsay lives in France and every time she comes home to visit, she literally fills a suitcase full of baking mixes. Now, full disclosure – Lindsay is a Celiac so to me, the thought of gluten-free baked goods is questionable but when she said "THIS NEEDS TO BE IN YOUR BOX," I had to do my homework.
Aelie and Mclain are a powerhouse duo with backgrounds in culinary and fitness. Like so many people during the pandemic – they took time to reflect and listen to what their client base needed and wanted…In this case, health-conscious women who were looking to add more protein to their diets. After months of testing and baking (they continue to expand their product line!) they nailed it (and their clients are SO happy to not be drowning in baked chicken breasts) and thanks to social media – they are really making waves.
HelloAmino's tagline is brilliant and accurate….The protein you need and the indulgence you deserve. At a whopping 15 grams of protein per slice – this best selling Banana Bread Mix is a treat you'll want to hide from the kids. Find Aelie and Mclain at the Millarville Christmas Market this year or explore their product line on the shelves at Italian Centre Shop Calgary.
Phil & Sebastian – Calgary, AB
Specialty Instant Coffee

@philandseb/ philandsebastian.com
I like to think of Phil & Sebastian as being pioneers in not only small batch coffee roasting in Alberta – but Calgarians really got a front row seat in watching a little Farmer's Market booth grow into an incredibly impactful brand in our community.
With nine locations and a huge commitment to quality – when I got a call from the team about a new project they had brewing that could use the BONAFIDE touch – I was honoured. Now, here's the thing…I can't quite talk about it yet BUT I will say that this new endeavour is exciting, delicious and after trying it you're going to CRAVE it. I know, I know – this is totally mean to taunt you but I promise it'll be worth the wait when the cat can be let out of the bag.
In the meantime – did you know the guys have partnered with Hasty Coffee and created an instant coffee? This is the NEWEST product in the Phil & Sebastian line and with holiday travel, winter outdoor adventures and even baking at home – instant coffee is a great thing to have on-hand. Just add water – and trust me when I say this…It's not like the instant coffee our grandparents were into. 
Gigi Importing – Brampton, ON
Acacia Honey & White Truffle + KABOOM Calabrian Chili Spread
@gigi_importing/ gigiimporting.com
Over the years, Flavio Vanacore from Gigi has selected the newest, finest, coolest products to put in the BONAFIDE Box – but this year, he went with the newest, finest AND hottest.
This white truffle honey is SO luxurious…It can take a plain 'ol four cheese pizza and crank it up to the next level. The Italian Centre Shop's General Manager, Gino Marghella has been drizzling it all over Parmgiano-Reggiano after he cracks a wheel open for guests and I love a little drizzle over a warm croissant. A little goes a long way but it's super boujee and a total mic drop if you're wanting to impress friends.
Not for the faint of heart – we can all agree that a Calabrian chili spread called KABOOM doesn't need a lot of explanation but again, a little goes a long way. If you want to add some sweet heat to sauces or spreads, this is a great product to have in the pantry. Use it instead of chill pepper flakes – it has waaay more personality than that stuff in your spice rack.
Gigi's products can be found throughout all Italian Centre Shop locations and products are a great way to take simple dishes and take them to the next level. Be fancy on a week night…You deserve it.
Italian Centre Shop – Edmonton & Calgary, AB
Balsamic Vinegar of Modena
@italiancentreshop / @italianctryyc / italiancentre.ca
The Italian Centre Shop had another HUGE year with exciting initiatives like the Pi Day promotion where proceeds of Take & Bake Margarita pizza sales were in support of school programs (811 pizzas were sold!), the 3rd annual Countdown to Christmas Advent Calendar (sold out in 6 minutes!) and most recently, the first-ever Festival of Cheese (it was legen-dairy!)
No rest for the wicked – the team is already planning 2024 partnerships and campaigns so there are really fun things in store for Alberta foodies…The incredible teams at every location are firing at all cylinders getting ready for Christmas and of course – it's one-stop-shopping for all things gifting and entertaining.
Now, if you've been to the stores lately you'll notice the Massimo's brand on various products made in-house like heat and serve lasagna, pasta and sauces, as well as frozen cookie dough, pastries and croissants. It's the Italian Centre's "house-brand" of products and over the past couple of years the line has expanded to include pantry staples like olive oil and jarred sauces made in Italy especially for Massimo's . The newest addition to the line – Balsamic Vinegar from Modena (where the world's best Italian products are grown and produced).
There are so many ways to use a great balsamic vinegar: vinaigrette for salads, reduced on the stove top to make a syrupy sauce, deglaze a pan to get all the extra bits of flavour for a great protein braise. An absolute pantry staple – it's super versatile!
Banff Cocktail Trail – Banff, AB
Jolene's Tea House Alpine Peppermint Tea +
PARK Distillery Alpine Gin
@jolenesteahouse / jolenesteahouse.com / Banff Cocktail Trail
What an experience it has been supporting incredible Banff businesses this year! From hosting media from across Canada and beyond while developing a tourism product – it has been so exciting to see a small idea for a few people turn into a BIG one for the public. What started out as a hosted media experience featuring a visit to Jolene's Tea House and three Banff Hospitality Collective restaurants for tea-based cocktails called the "Bear Street Cocktail Crawl" soon evolved into a self-guided walking tour throughout the town with stops for tea-based cocktails at seven restaurants and a PARK Distillery tour. Now called the "Banff Cocktail Trail", the program has gotten some very exciting buzz in publications including ELLE Gourmet and Food & Wine's TASTING CANADA feature last month.
Knowing the potential to enable cocktail enthusiasts to experience the Banff Cocktail Trail at home (no matter where home is) – Jolene Brewster and the mixologists at Banff Hospitality Collective created a DIY Banff Cocktail Trail tea trio including instructions to make tea-based syrups and recipe cards. Of course, these were designed for use with PARK Distillery spirits but use any spirit to have a taste of the Rockies, anytime.
Enjoy a taste of the Banff Cocktail Trail with the main ingredients for the Meadow Mint cocktail being served at Bluebird Wood-Fired Steakhouse, compliments of Jolene Tea House and PARK Distillery.
Looking for some gift ideas for a tea lover? Click here to check out Jolene's Tea House and their 60 varieties and blends, click here to see the line up of spirits and ready-to-drink products by PARK.
BODEGA Tapas Bar by SABOR – Edmonton, AB
Marcona Almonds
2023 was another outstanding year for Christian Mena and Lino Oliveira with the sixth BODEGA Tapas Bar location opening in South Edmonton's Ellerslie neighbourhood and it has been incredibly well received. The duo's brand of hospitality has really shined in another suburban hidden gem and we've had so much fun introducing Bodega to our Calgary friends headed up the QE2 for work or pleasure. It's the perfect stop on the way into town or on the way out – everyone we've hosted wants to know when they'll expand South like so many of our clients. I have no answer to that at the moment but my eyes are always peeled in Calgary for locations that have the magic they've managed to capture at all of their little spots.
BODEGA has become super popular with highly noshable Spanish tapas and one of the most crave-inducing snacks being added to their Happy Hour menus this winter are these sweet, soft, buttery and salty little delights – Marcona almonds. Is the word "luxurious" too extra to use when describing a snack? Maybe a little but you'll never look at a regular almond the same again.
Amedei Toscano – Tuscany, Italy
White Chocolate with Pistachios 
There is no better feeling than FINALLY meeting someone in person you'd been communicating with long distance for a few years. It was such a thrill to welcome Philadelphia-based Aaron Flamini from Amedei to Alberta this past October for an Italian Centre Shop roadshow. We made some BIG plans for his visit including a chocolate and cheese pairing demo hosted by Aaron himself and Gino Marghella for the SAIT Hospitality students – students led by pastry instructor (and our dear friend) Chef Christine Beard. Chef Rogelio Herrera of ALLOY also made an appearance, demonstrating Amedei chocolate three ways in a dessert. We headed North for a culinary segment on Global Edmonton and a consumer event featuring another exciting layer to add – wine pairings with Vine Arts's Cheata Nao in Edmonton and BONVIDA Wine's Andrew Jones in Calgary. Guests were completely mind-blown at the combinations Gino and Aaron shared and at the quality of Amedei chocolate – which is still being produced in Tuscany at their beautiful headquarters.
The surprising crowd favourite at all the events we hosted (and Gino's personal favourite) is the White Chocolate bar with Bronte Pistachios (is white chocolate REALLY chocolate?)…Amedei says this bar symbolizes the red, white and green of the Italian flag and we love it. Find Amedei Chocolates at Italian Centre Shop year-round, Eataly Canada locations and Holt Renfrew over the holidays.
Canada's Food Island – Charlottetown, PEI

Anne's Chocolates
Raspberry Cordial + COWS Cow Chips
Prince Edward Island Preserve Co. – Jam
Martime Madness – Mustard Pickle Sauce
@canadasfoodisland / canadasfoodisland.ca
One of the loveliest invitations I got this year was from Mike Morrison of Social West asking if I'd be interested in heading to Charlottetown, PEI to speak at FoodSpark – a one-day learning session hosted by Canada's Food Island (and the LOVELY Crystal MacGregor) geared towards food makers and producers based on the beautiful island. I mean – c'mon….How could I possibly say no? I had the pleasure of visiting PEI twice in 2018 and it completely captured my heart.
I prepared a session on CONTENT, COLLABORATION & COMMUNITY – Keys to Grassroots Food Marketing and had such a great time sharing stories around the fun work I get to do with clients as well as some of the ideation, strategy and thought processes I go through when creating content, auditing partnerships and community investment. I met some really great marketers who spoke on various topics like SEO and Meta, using Instagram Live as a marketing tool and what Google knows about us thanks to our browsing habits and how we can use this information for marketing food. Super interesting stuff!
I reached out to Crystal a few months ago asking her if she had any thoughts around products that would make a big splash in the BONAFIDE Box this year and it was nearly impossible to decide so – thanks to the incredible Eastern island hospitality – you're getting 'em all!!!
The amazing folks at Anne's Chocolates sent over their legen-dairy COWS Cow Chips (which by the way – Kelly Ripa was RAVING about on LIVE with Kelly & Mark just last week) and Anne of Green Gables Raspberry Cordial.
The glorious jam is from the Prince Edward Island Preserve Company and is made in small batches out of the most charming little creamery built in 1913. Find them in in New Glasgow, PEI – they have a lovely little restaurant.
…and this quirky Mustard Pickle Sauce is courtesy of Maritime Madness they have a zillion flavours and it was really hard to pick one!
ALL of these products can be purchased online and shipped across Canada.
Northern Bars – Vancouver, BC
Nanaimo Bars
Last winter, my friend Janice from Maui came to visit me in Calgary and I wanted to send her home with something quintessentially Canadian to share with her family. I remembered seeing these little bon-bon style Nanaimo Bars being served at the Michelin event in Vancouver and tracked down Northern Bars. The minute I tried one I knew these would be my new go-to gift from Canada – served with a side of Jolene's Tea.
I had the great pleasure of meeting Michelle and Sam – the couple behind this beautifully packaged confection at their Granville Island Headquarters. Their passion is truly palpable and it's no surprise Northern Bars is getting some buzz. These two-bite treats bring a hint of nostalgia in an an elevated, modern way.
To quote every Asian Auntie when they approve of a dessert, these are "Very good…Not too sweet". I think you'll agree,  Northern Bars will one day take the place of maple syrup when we think of iconic Canadian flavours and confections. Enjoy this 4-pack of Northern Bars (I don't think you'll want to share them) OR to gift to a friend missing a taste of home.
A Cappella Catering – Edmonton, AB
Family Take & Bake Dinner 
The team at A Cappella had a really action-packed year with their first foray into the restaurant business becoming the operators of Prestons in the Coast Edmonton Plaza Hotel, a record-breaking wedding season and overall, back to pre-pandemic numbers as Edmonton's premier corporate caterers. Always striving to improve and innovate, they tweaked and re-launched their top selling Take & Bake program! Homestyle classics like Country Ham, Beef Rouladen and one of the tastiest Beef Lasagnas I've ever had can now be ordered hot and ready to serve OR oven ready. The gift of time can now be given to anyone and at anytime of the year and not just holidays. Over the summer, Take & Bake fans started a trend we can really get behind…Taking these pre-made meals to the great outdoors. Campers – take note for next summer…all that prep work and packing can be removed from the to-do list – check out what Beef on a Bun can be like at the cabin by clicking here.
A Cappella would like to treat you all to a Family Take and Bake dinner of your choice – Check out the menu here and plan for a night off!
Looking to take some holiday stress off your plate too? Click here for the 2023 FESTIVE MENU and book your holiday meal or company Christmas party today.

Lastly, on a personal note…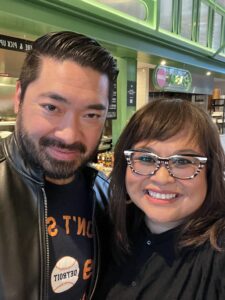 On October 30 of last year, I ran into an old high school friend, Andy Suva and his wife, Elaine while I was setting up for a media event at the First Street Market. We shared a big hug, took a selfie to send to our friends in Edmonton and made a plan to get together for a solid catch up over dinner. Two weeks later – we did just that. Enjoyed a wonderful meal and talked about where time has taken us, projects we've worked on, places we'd travelled to and by the end of the night we were planning to merge his expertise as a research and program developer for TIES (The Immigrant Education Society) and my involvement in the culinary community to create an amazing event/fundraiser to amplify food, culture and cuisine of new Canadians. We were STOKED and eventually parted ways with a plan to reconvene. 
Sadly, a few weeks later – Andy suffered a stroke and on December 19, he passed away. 
I couldn't figure out why any higher power would do that…Bring a friend back into my life and then take them away so abruptly. It made no sense and year later – I still find myself still grieving his loss and imagining what could've been with the incredible ideas we brainstormed over dinner that lovely night.
While I was planning this year's BONAFIDE Box and writing about the milestones and memories from this year, I realized how so many of the objectives we outlined that night actually manifested in my work this year.
Amplifying immigrant stories…CHECK!
Showcasing BIPOC-owned and woman-owned businesses…CHECK!
Working on programs addressing food insecurity….CHECK!
It didn't look like what it was supposed to look like but…I think we did it. I say "we" because I know Andy was helping me along the way. He is incredibly missed.
I'm excited about 2024 and I hope you are too. Thank you for supporting me, my work and my clients…We are truly so grateful. 
Wishing all of you good health, prosperity and lots of love in the new year. xo JPC