Edmonton's SABOR Restaurant once again plays host to one of the city's most anticipated food festivals of the year.
The 5th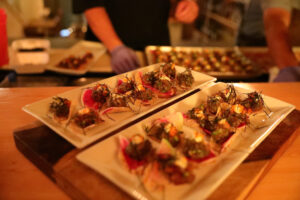 Annual SABOR Seafood Festival runs from August 7-31 and features a globally inspired surf and turf menu featuring seasonal and local ingredients to compliment Ocean Wise certified sustainable seafood.
On July 30th, 100 media and vip guests were invited to an exclusive dinner featuring a chef collaboration hosted by Chef Lino Oliveira and special guests Chef Lyndon Honda from Sheraton Maui Resort & Spa and Chef Tom Muromoto from Ka'anapali Beach Hotel.
A Kukui nut lei was presented to each guest as they arrived by Shelley Kekuna, Executive Director of the Ka'anpali Beach Resort Association, guests enjoyed a cocktail reception with small bites from each of the chefs and welcome bubbles before a multi-course feast including flavours from the islands, Portugal and Puerto Rican flair.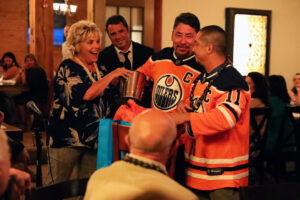 Christian, Lino and the gang at SABOR had such a great time with Chef Lyndon and Chef Tom…They made sure their first visit to Edmonton was a memorable one and presented the Hawaiian duo with personalized Edmonton Oilers jerseys with their lucky number.  An incredible trip giveaway rounded out the evening and was won by local blogger, Andrea Chan. It was an incredibly memorable and exciting moment for all, especially since she's walking down the aisle in two weeks!
To see pictures from the event look for #saborseafoodfest on Twitter and Instagram or have a peek through the photo gallery. Check out what folks are saying about our preview party: LindaHoang.com, Beyond Umami and Only Here For The Food.
5th Annual SABOR Seafood Festival
Media/VIP Preview – Monday, July 30
Welcome
Vinhas De Moncao Espumante Rose Vinho Verde Minho – Portugal
Cocktail Reception
Raw Bar
Ahi tartare on taro chip – by Chef Tom
Island shrimp cocktail w. papaya tomato salsa  – by Chef Lyndon
Langostine White Bean Burrito – Chef Lino
TO START
SPAM 'n Clams – by Chef Lino
Portuguese Sausage SPAM, garlic, pimento, white wine, cilantro
Chilled lobster tail w. avocado – by Chef Lyndon
w. vanilla bean lime vinaigrette
Grilled prawns w. coconut taro leaf curry – by Chef Tom
FIRST COURSE
Ko'ala lamb chops w. mango mint chutney – by Chef Tom
SECOND COURSE
Octopus three-ways – by Chef Lino
grilled w. sea asparagus
stewed w. red wine and tomatoes
risotto
THIRD COURSE
Puerto Rican-style pork stew w. green banana fried rice – Chef Lyndon
DESSERT
Coconut ice cream stuffed Malasada w. mango cream