To say our first trip to Palm Springs with a couple girlfriends was memorable would be a HUGE understatement. WE HAD SO MUCH FUN. We can't believe we waited this long to go! The California sun was blaring when we arrived and although we love our time in luxury hotels, one of our travel mates found an incredible home for rent.
STAY: Hotel vs. our very own pool? TOTAL NO BRAINER. We rented this 50's pad fully equipped with a pool and kitchen — here's a little tidbit before you start planning a wild backyard bash and pool party: There is a noise bylaw and music cannot be played outside (even off a cellphone) and inside if it can be heard outside. A bit of a damper but made for some great conversation and laughs…Y'know, like in the olden days.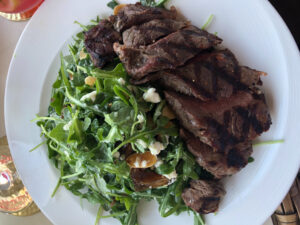 EAT: Palms Springs Village Fest (Thursday Night Market) is where we found Arizona Jack's Beef Jerky and it was SO GOOD – Teriyaki and HOT were our faves! Brunch at Norma's in Parker Palm Springs (Banana-Macadamia Nut Flap Jacks with Whipped Banana Brown Sugar Butter was off the charts), Cocktails and snacks at State Fare Bar in The Ritz Carlton Rancho Mirage (Arugula Salad and Blueberry Whiskey Smash), VERY STIFF (but delicious) cocktails at Bootlegger Tiki, VERY sexy space and clearly THE place to be and be seen at Workshop Kitchen + Bar and one night we just ended up ordering in from Wang's in the Desert. We also had out first In-N-Out Burger experience and it didn't disappoint. The service was outstanding for a fast food joint. They got it going on over there…
SHOP: Desert Hills Outlet was hands down the BEST outlet shopping we've ever experienced – great deals at Max Mara, Saks Off 5th and BCBG…Too hot to go though all the shops but our visit was fruitful. Also popped into Westfield Palm Desert and found some cute and affordable summery accessories at Charming Charlie. It was far too hot to be wandering around downtown in the sun for us Canadian gals…But there were lots of beautiful little shops and antiquing to be had in this little town. If you're a consignment shopper – Palm Spring is pure heaven.
SEE: Drag Karaoke at the Retro Room Lounge – We went on a Thursday night and had a blast! Our host was the gorgeous Jayd Foxx.