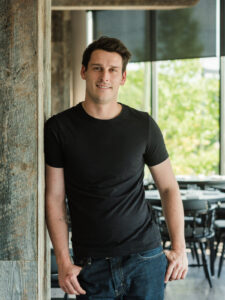 The majestic river valley and historic Alberta Legislative Grounds are now the backdrop to the city's newest restaurant, The Butternut Tree, by Edmonton-born Chef Scott Downey in the Ledgeview Centre on 9707 110 Street.
The 58-seat space boasts a panoramic view and uses natural materials and colours to offer a neutral backdrop to Downey's culinary offerings; Rustic wide-plank flooring, butcher block tables and cottage style seating blends vintage with modern, while a sweeping, open wall-to-wall glass kitchen with open doorways welcomes guests to get a glimpse of dishes being prepared and plated for service. Interaction with the kitchen team is encouraged and questions about the ingredients, where they came from and how they are prepared are always welcome.
Downey's curiosity for growing and harvesting fresh ingredients was roused while spending summers at his grandmother's house in Sackville, NB. Grandma Grace's backyard butternut tree is the restaurant's namesake. To Downey, the tree's rings symbolize Canada's diverse bounty of natural ingredients—hidden in plain sight—waiting to be explored and shared with guests.
Chef Downey's first restaurant pays homage to the places he's lived, worked and explored, while showcasing seasonal ingredients from Canada's distinctive terroir.
"Working with Canadian farmers and producers is incredibly humbling." says Chef Downey, "The heart and soul that goes into their work directly reflects on the plate with quality and flavour. It's important to me to share their stories through my food and hospitality."
Find Ocean Wise certified and ethically caught rockfish from B.C.'s coast served with wild rice, dragon's tongue, fava and green pod beans and an aromatic broth made with kelp, fresh fennel, bedstraw, rose leaves and thyme – poured table side. Bison done two ways is also featured with grilled strip loin brushed with juniper butter alongside bison short rib braised in stock fortified with onions, lovage, berry leaves and red wine. Accompaniments to the duo include lentils, cauliflower, carrots and a Saskatoon berry bison jus.
The Butternut Tree's wine program highlights the diversity and quality of Canadian wines. Black Sage Vineyard Pipe from the Okanagan Valley is Canada's response to Port, while familiar Canadian musts from the Niagara Peninsula including ice wines from Henry of Pelham Estate are offered. Cocktails feature sumac, sea buckthorn and gooseberries paired with Canadian produced liqueurs and spirits from Legend Distillery in Naramata, BC, Ironworks Distillery in Lunenburg, NS and Eau Claire Distillery in Turner Valley, AB.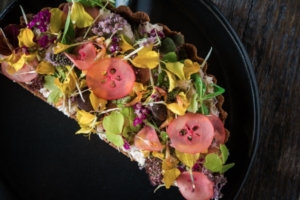 Chef Downey graduated in 2014 with an Associates Degree in Culinary Arts from New York's Culinary Institute of America and subsequently cooking at Michelin-star restaurant Daniel in New York, the highly decorated NOMA in Denmark and Wildebeest in Vancouver – Chef Downey has also had the distinction of participating in the preparation of a foraged feast by Chef Eddy Leroux and acclaimed forager Tama Matsuoka Wong at New York's prestigious James Beard Foundation. In 2015, Chef Downey returned to Vancouver to launch a foraging company with many noteworthy restaurants procuring his harvests, including L'Abattoir, AnnaLena and Burdock & Co.
"When I left Edmonton ten years ago, I embarked on an journey that took me from business school in Vancouver to culinary school in New York to a kitchen in Copenhagen." says Downey, "I've always known the Alberta prairies is where I wanted to build my first restaurant. It feels great to be home."
The Butternut Tree is open for dinner service at 5pm Tuesday-Sunday.
Complimentary parking underground starting 5pm and on street after 6pm.
ABOUT THE BUTTERNUT TREE
Chef Scott Downey is back home in the prairies and set to introduce Edmontonians to his interpretation of Canadian cuisine. A stone's throw from the beautiful Alberta Legislature Grounds just off Edmonton's majestic river valley, the room with a panoramic view is Chef Downey's first restaurant and pays homage to the places he's lived, worked and explored, while showcasing seasonal ingredients from Canada's distinctive terroir.
A focus on replacing global sources of sweet, sour, bitter and salty with unique ingredients from our home and native land is at the forefront of The Butternut Tree's culinary offering. From budding foodies to seasoned supporter of local provisions and purveyors, this is the place where guests can experience the unexpected.