If you ever hear us bragging about how tough Albertans are and need proof – the team at RGE RD are some of the toughest folks we've ever had the pleasure of working with. July 7 marked the first of eight farm dinners to be held this summer and will absolutely go down in the books.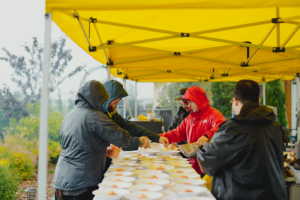 An epic downpour happened while Chef Blair Lebsack and partner Caitlin Fulton started serving 70 guests beautiful food cooked outdoors over open flame at Sturgeon County's Gold Forest Grains. To us, this gave new meaning to "the show must go on" as well as taught us how hearty and adaptable our dinner guests truly are.
With our partners at Edmonton's Destroy the Box Creative, we had the pleasure of creating a booklet to be placed on every place setting at each farm dinner showcasing each location throughout the summer with an overview and family recipe.
Alongside Gold Forest Grains, Prairie Gardens Adventure Farm, Nature's Green Acres and Riverbend Gardens will be hosting RGE RD events this summer.
2019 Farm Dinners are sold out but register here to be first to know about 2020 dates and tickets!
View this post on Instagram