After joining Edmonton's food scene last fall, OEB Breakfast Co. (fondly known to fans as "OEB") is set to open their 2nd capital city location on Monday, September 9. Edmontonians are invited to break their fast and fill the soul at the 60-seat eatery starting at 7:00am at #56, 10240 124 Street.
Since 2009, founder Mauro Martina's vision to cultivate a breakfast culture based on food integrity has built a very passionate following.  While OEB's signature look and feel – clean lines, natural light and an open kitchen – has become a favourite among Alberta brunch-goers, it's the farm fresh ingredients and elevated culinary experience that has made a mark in the hearts of loyal fans.
"It didn't take long for our team to discover Edmonton's appetite for a bright, lively and high-energy breakfast joint serving beautiful, fresh ingredients in traditional and not-so-traditional ways." says Dave Orsten, VP Operations, with a smile. "The residents in this neighbourhood appreciate style, support local and value art and craftsmanship. It's a natural fit for OEB to call 124 Street home. "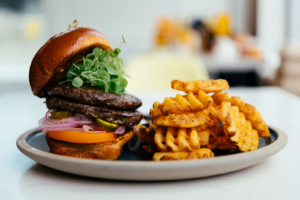 Enhancements to the concept's newest location include an 8-seat Chef's Table where guests have a front-row seat to the see the culinary team in action, a full-service bar featuring local beer on tap by Sea Change Brewery and an expanded cocktail menu.
Menu offerings continue to be a feast for the senses as they push the boundaries of traditional breakfast with favourites like Pierogies & Duck, the Truffled Squash Benny and of course, OEB's signature breakfast poutines.
New menu items include Banana "Cream Pie" French Toast made with brioche, banana cream and fresh bananas, the Duck Leg & Waffle topped with a sunny side egg, spicy caramel pickled red onions, fennel, brown butter hollandaise and microgreens, and We've Got Huevos – OEB's take on a traditional Mexican breakfast dish, Huevos Rancheros .
OEB Breakfast Co. will be setting up a reservation system in upcoming weeks to accommodate a demand for advance breakfast and brunch bookings from Monday-Friday. On the weekend and during busy restaurant hours, guests are encouraged to use the Yelp NoWait App, which allows diners to place their name on the waitlist remotely, track the progress of the queue in real-time, then be contacted when their table is ready. This has proven to be the best way for OEB fans to access a coveted table during prime dining hours.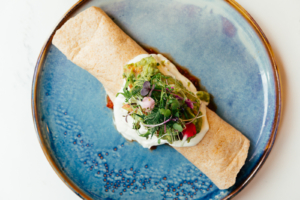 OEB's expansion into the popular 124 Street shopping district is a welcome one for neighbouring businesses and residents. "We're very pleased with the diverse culinary offerings 124 Street has attracted over the past few years." says Jeff McLaren, Executive Director, 124 Street Business Association. "OEB's growth over the years is really exciting and we're thrilled Mauro and his team selected 124 Street for their next location in Edmonton. We look forward to welcoming OEB patrons to the area and hope they take the time to explore our fantastic street."
OEB Breakfast Co.'s Hours of Operation:
Seven days a week from 7:00am-3:00pm
For more information, visit eatoeb.com
#fillthesoul @oeb_breakfast
ABOUT OEB Breakfast Co.
OEB Breakfast opened in Central Northeast Calgary October 2009 based on owner Mauro Martina's love for food and gathering and the belief that breakfast should be bolstered by artistry and passion. The chef-driven concept is led with soul, where the emphasis lies on the people that produce, create, serve and consume fresh fare in warm, modern and welcoming settings. Now up to six locations (5 in Alberta, 1 in B.C.) with the newest on Edmonton's 124 Street opening September 2019, OEB Breakfast Co. continues expanding south with the next opening in Scottsdale, Arizona in Fall 2019.
BONAFIDE Media & PR welcomes media inquiries and partnership opportunities for OEB Breakfast Co.
Connect with us at hello@bonafidemediapr.com
Check out some coverage from our media preview – Edmonton Journal – Food Notes, Global Edmonton – The Tomato Food & Drink, community leader Brittney LeBlanc.