Over the weekend – hundreds of pork lovers gathered at the Fairmont Banff Springs to participate in a one-day celebration of the Heritage pig – Cochon 555.
The Cochon555 Tour executes a yearly host of authentic, hyper-local food events focused on raising awareness for heritage breed pigs through an innovative nose-to-tail pig cooking competition. This epic pork feast visits 14 major cities in North America annually. The tour is comprised of an array of live expressions and cultivates a long-term impact for heritage species. Both educational and inspirational messages are circulated among 16,000 guests; 2,200+ chefs; 150+ family farms; and culinary schools each year.
View this post on Instagram
Each local chef participating in the Cochon555 culinary contest will have just one week to creatively prepare a 200-pound heritage breed pig, sustainably sourced from regional family farms; a maximum of six dishes must be plated for the judge's deliberation. To win, a chef's menu must impress 14 celebrity judges with their "Judge's Plate," scored on utilization, technique, and overall flavour – and be voted "best bite of the day" by Cochon555 guests.
Participants this year:
Chef JF Fortin, Fairmont Chateau Lake Louise
Broek Pork Acres, a family farm in Southern Alberta, to prepare and present a Berkshire heritage pig. The Berkshire is one of the most popular heritage breeds and is well-known for producing tender, juicy meat with high marbling.
Chef Rory Germain, Saltlik
Nature's Green Acres, a small husband and wife run farm located in Viking, Alberta, to prepare and present a Tamworth heritage pig. This rare breed is known for its ample belly (aka the best bacon hog) and vibrant flavour.
Chef Christian Gosselin, 1888 Chophouse
Eh Farms in Strathmore, Alberta, to prepare and present a Mangalitsa heritage pig. The Mangalitsa meat is considered among the tastiest pork in the world.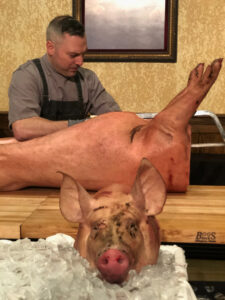 Chef Chris Thomson, Crave Mountain Grill
Sunterra Farms to prepare and present a Berkshire heritage pig, prized for its juiciness, flavour, and tenderness. For the past three generations, the Price family of Sunterra Farms have built their business around pork, from their Acme, Alberta location.
Chef Scott Hergott, Sky Bistro
Bear and the Flower Farm to prepare and present a Duroc/Landrace/Berkshire heritage pig. This unique combination creates a richly flavoured and balanced pig. Bear and the Flower Farm, a husband and wife duo, is devoted to raising superior and humanely produced pork, and are the first outdoor-raised hog producer in the country to achieve Canadian Quality
Assurance (CQA).
Chef Blair Lebsack of Edmonton's RGE RD was named head butcher this year where a beautiful 160 lb. pig from Nature's Green Acres was broken down by hand in front of a live audience and sold on-site in support of the "Piggy Bank". Since 2009, more than $1,100,000 has been donated to charities, and over $1,200,000 has been paid directly to farmers.
View this post on Instagram
The ultimate aim of Cochon555 is to educate chefs and consumers on heritage breed pigs and to create an experience that showcases honest food from real farmers. Through education, the goal is to raise the bar on building a sustainable and profitable relationship for brands and chefs participating in culinary festivals.
For more information, visit www.cochon555.com or follow @cochon555 on Twitter and Instagram.