It's tiiiime…
The BONAFIDE BOX is our time-honoured tradition (7 years and counting!) and a token of our gratitude to storytellers, amplifiers and friends. We only make 50 of these beauties each year and looking back, it's really evolved. We started the BONAFIDE Box to showcase our clients, their brands and offerings alongside brands and products we'd discovered throughout the year. As I was planning this year's edition, I realized it's actually a yearbook and a jaunt down memory lane. The collection of items I curated this year are truly symbolic of the wonderful year we had representing and supporting our clients, sharing their stories, giving back to the community, expanding our network and of course, celebrating BONAFIDE's growth.
A few highlights from 2022:
BONAFIDE got a makeover! Our post-pandemic brand refresh has put a little extra pep in our step after a nutty couple of years.
I have staff!!! Jessika Saks is a new addition to Team BONAFIDE and a Jill of all trades supporting with admin, writing, and odds & ends. It's been a great help so far because this one woman show thing isn't easy.
I dined at the world's FIRST Filipino restaurant to be presented with with a Michelin star – Chicago's Kasama – an unforgettable meal that made me so proud to see flavours I grew up with be presented so thoughtfully and elegantly.
I was invited to be part of the judging panel for Canada's Best 100 Restaurants!
Team BONAFIDE developed and produced a Battle of Alberta Survival Kit to celebrate Calgary & Edmonton going head to head in the playoffs.
We welcomed ConMi Taco, Discover Surrey, Visit Phoenix, Jack 59, Banff Hospitality Collective to our roster.
…and I haven't really had a chance to share this with anyone yet – but I'm curating a box of Alberta-made products for the Marilyn Denis Show's 10 Days of Giveaways Holiday finale that will air on December 22! (That's all I can tell you right now)
Another fun year goes down in the books! We're lucky to have clients who give us the chance to come up with wild ideas and execute them and have folks like all of you who support us by sharing their great stories in publications, your social media platforms, telling friends and family from coast-to-coast and becoming brand and product loyalists! We are forever grateful.
INSIDE THE BONAFIDE BOX 2022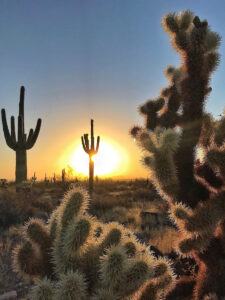 Visit Phoenix – Phoenix, AZ
Pouch organizer, socks and magnet
@visitphoenix / visitphoenix.com
I never thought in a million years a chance encounter in a virtual conference networking room during the pandemic could lead to being in a box suite at Toronto's Rogers Centre at the Harry Styles concert with Sarah Boyd of Visit Phoenix and a few of their tourism partners.
When borders opened up, airports started to get busy again and Arizona was ready to welcome visitors again, Sarah reached out for Canadian PR support and I don't blame them. 2023 is HUGE for Arizona with hosting the Rihanna concert/Super Bowl LVII, the Waste Management Open and MLB Spring Training Camp happening all within a few days of each other. We made the trek to Phoenix in late September yes, it was HOT but even hotter was the arts, culture and culinary scene. It was incredible to see the desert for the first time (OMG!!! Cactus…Sunsets…Camelback Mountain!) and enjoy a legendary pie from Pizzaria Bianco. We can't wait to facilitate more Canadian media introductions and FAM tours for the team from Visit Phoenix and enjoy poolside drinks again soon.
They sent these adorable little pouches from a local maker, socks and a magnet to remind you of all the fun Phoenix has to offer. Check out their website here and start planning a visit! 
Mountain Joe – Banff, AB
Canadian Coffee Cocktail
@drinkmountainjoe/drinkmountainjoe.com
The team at Banff Hospitality Collective has been absolutely swamped with the opening of Banff's newest wood-fire focused, Bluebird Restaurant & Lobby Bar just a few weeks ago and we are thrilled they enlisted BONAFIDE to be an extension of their marketing team! They've sure kept us busy with 14 properties to pitch and promote BUT the newest addition to their offerings is most intriguing for us avid coffee fans and insomniacs…Meet Mountain Joe! Calgary's beloved "Shaft on Draft" is now in can form and made with cold brew, PARK Distillery vodka, oat milk (they don't have to be refrigerated!) and honey. Totally crushable just about anywhere and but if you're an Edmonton Oilers fans – you'll be seeing a lot of him at Rogers Place this season in all the suites and bars on the concourse!
These stubbies pack a punch! I love it served straight over ice but a few folks are shaking it up with an extra shot of coffee like an espresso martini. Both are excellent options for holiday entertaining especially when you need a mid-party jolt.
Enjoy a taste of Mountain Joe to share with a friend! Purchase online, at Alberta liquor stores and super cool bars and restaurants.
AllSaints – North America
Underground Shopper Tote Bag
One of our favourite things about supporting UK-based luxury brand AllSaints from this side of the border is the chance to get our network of culinary pals camera and red carpet ready. This year we had the pleasure of styling Canadian culinary cookbook author and TV celeb David Rocco, Maui-based James Beard Award nominee, chef and restauranteur Sheldon Simeon and Top Chef Canada judge and Vancouver Michelin Awards host, Mijune Pak. I'm really looking forward to visiting New York this January to see the new location on Fifth Avenue just steps away from Bryant Park, Times Square and Grand Central Terminal.
With the upcoming ban on single-use plastics, the team at AllSaints wanted you to have one of their shopper totes on-hand.
Find AllSaints locations in Vancouver at CF Pacific Centre, Toronto at CF Yorkdale and CF Eaton Centre, Calgary at CF Chinook Centre and Montreal at Promenades Cathédrale.
Caramunchies – Edmonton, AB
Gingerbread
@caramunchies / caramunchies.com
One of our fave memories of 2022 was our first time ever trip to Chicago for the Sweets and Snacks Expo and meeting up with Alysia Lok of Caramunchies to do some much anticipated culinary research. The self-proclaimed "professional snacker" wasn't kidding – she was all about sampling all the incredible goodies and worked that trade show floor like a machine. And although we brought empty suitcases for our hauls, I still ended up having to give treats to my Uber driver because my suitcase was SO heavy *face palm*.
Some of you may remember these caramel snack delights from last year…We were waiting anxiously for Alysia's new packaging to come in but they didn't arrive in time for the BONAFIDE Box so…HERE IT IS! Caramunchies in their new glowed-up and you're all among the first to enjoy Gingerbread – this year's holiday seasonal. Keep an eye out for these in holiday gift guides over the next few weeks!
I've been accused of applying guerrilla marketing tactics when sharing samples of Caramunchies at meetings because one bite and people get hooked. All I can say is "don't hate the playa…". LOL
Caramunchies ship anywhere in Canada by clicking here, or pick up a bag (or seven) at Italian Centre Shop, independent boutiques, farmers markets and gift shows, select Safeway and Save On Foods locations. Use promcode BONAFIDE for a free bag with your online order!
Jack59 – Edmonton, AB
Dry Shampoo + Hair Tool/Toiletry Bag
What year for Edmonton-based Jack59! Founder Vanessa Marshall called on BONAFIDE this fall when she was nominated for the Pow Wow Pitch – a 25K grant to support Indigenous entrepreneurs. We got straight to work and secured press interviews, business profiles and even a visit with some of our radio pals and in the meantime Jack59 was a runner up in the Made in Alberta awards under the beauty category and was named winner of the Amy Willier Award for Indigenous Artisans.
Just a few weeks ago, Health Canada issued a product recall of big brand dry shampoo in aerosol form because of the presence of Benzene, a known human carcinogen that can result in life-threatening illnesses has been detected in them. Needless to say – we got crackin' on letting folks know Jack59's powder form dry shampoo is all-natural, safe and super effective…We've been using it for a couple years now!
Vanessa and the team wanted to make sure all of you could try their dry shampoo but also included a travel case big enough to store your hair dryer, a flat iron and hair products. Scan the QR code on the postcard and do the hair quiz to determine the perfect shampoo and conditioner bars for your hair!
Learn more about Indigenous-owned, female-owned and operated Jack59 on their website. There are fantastic stocking stuffers and products perfect for carry-on travel.
Discover Surrey – Surrey, BC
Chaat Masala by Pink Chai

@discoversurreybc / discoversurreybc.com
We've been waiting for this moment for nearly three years! Last month we had the pleasure of planning events in Calgary and Edmonton for Ange Chew of Discover Surrey that reunited her with Alberta's finest storytellers and enabled us to gather for the first time to learn about Surrey's new Spice Trail. Created by Ange and her team to highlight the South Asian and multicultural cuisine in Surrey, the Trail includes over 50 restaurants, cafes and retail stores all eager to show off their specialties.
(Fun fact: Team BONAFIDE designed the Surrey Spice Trail logo and started planning these events early 2020!)
We enlisted Calgary Chefs Jesse Mann and Chef Rahul of Saffron Street and Edmonton's Chef Ramaraj (JP) Vengatajalapathy of Bodega 124 Street to serve up dishes inspired by the flavours found on the Spice Trail and these gents cranked out incredible dishes – absolute flavour bombs! – for our guests.  Ange's co-host for both events was Surrey-based lifestyle blogger and food influencer Raj Thandhi (aka: PINK CHAI) who shared stories from her community and the must see/eat/drink stops on the Trail and we had a great time introducing the ladies to our network.
Raj was so kind to create a special Chaat Masala blend for us to include in the BONAFIDE Box this year! I added some to melted butter before it hit a bowl of popcorn and it was DELICIOUS. Discover the adventures you'll find on Surrey's Spice Trail here.
4th Street BIA – Calgary, AB
Pup Club Welcome Kit
@4thstreetcalgary/ 4streetcalgary.com
4th Street had outstanding year with the return of Lilac Fest after a 2 year hiatus and it was an absolute smash. Music, vendors, full patios and just pure joy. The rain held off on super hot summer day and I have to admit – for the first time, major events felt like they were going to be ok again.
We kicked off an official 4th Street Pup Club this past summer that saw 150 registrations over a couple weeks, recently welcomed the first KNIX stand alone store in Calgary and we're launching a digital advent calendar in the next couple weeks to help Calgary countdown to Christmas.
The Pup Club Welcome Kit comes with a dog shampoo bar from Unscented Co., a discount at Ultra White for pawrents and a light up collar tag. Keep or regift! For more information, click here. 
Gigi Importing – Brampton, ON
Pesto Alla Genovese + Egg Tagliatelle
@gigi_importing  / gigiimporting.com
As the world seems to be getting back into the post-pandemic swing of things, we're heading back into the usual hustle and bustle of work and for me, this means the pantry needs to be stocked up with great staples again. Gigi Importing's Flavio Vanacore is my go-to guy when it comes to learning about the newest exports from Italy and this year – his obsession is their new line of artisan egg pastas and when I tried it I was hooked. When a dry pasta is this tasty – you gotta keep it simple and a jar of pesto alla genovese is always handy. I love roasting garlic and a handful of cherry tomatoes until they blister, adding a heaping spoonful of this pesto and tossing with this pasta and starchy water until this magical sauce forms…A couple handfuls of grated parmesan and a drizzle of good olive oil…Dinner in 20 min.
Flavio and his sister Mena (who was tending to her new baby boy most of the year) sent these two fantastic products from their private label line for you to try and I think you're going to love them so add them to your next Italian Centre Shop haul…Check out Gigi Importing's newly re-vamped website here.
Italian Centre Shop – Alberta
Dish Towel
@italiancentreshop / @italianctryyc / italiancentre.ca
It's hard to believe this but Italian Centre Shop General Manager, Gino Marghella reminded me a few weeks ago that we're going into our 8th year working together…I just can't believe it! What an adventure it's been…
The Italian Centre Shop had another outstanding year with the donation of over 1,000 panini to local schools in partnership with the Calgary Flames and EducationMatters, super fun ad campaigns with Calgary's Virgin Morning Show and our pal Fuzzy, serving up epic Cannoli Pies to commemorate Pi Day, Gino on the airwaves chatting about the latest TikTok trend – Butter Boards and the HIGHLY anticipated the Countdown to Christmas Advent Calendar goes on sale this week.
There's nothing more festive that every Italian Centre Shop location over the holiday season and over the next few weeks – all the seasonal delicacies and traditional treats make their way onto the shelves. Gino's pick this year for best host/hostess gift – a 1kg wedge of Parmigiano-Reggiano, a bottle of aged balsamic vinegar and truffle honey.
Next time you're in the shop and looking for gadgets and stocking stuffers – head over to the housewares department. It's where you'll find fab products for gifting and this handy tea towel is fresh off the presses…You're among the very first to receive one!
Jolene's Tea House – Banff, AB
Maple Black Tea House
@jolenesteahouse / jolenesteahouse.com
To say Jolene's Tea House had an incredible year would be an understatement! This little cottage on Bear Street has become a must visit spot for tourists and locals alike…It was wonderful to welcome the Marylin Denis Show for a visit, launch an official Cocktail Crawl featuring Jolene's tea-based cocktails and develop a web series featuring notable Banff-based women entrepreneurs and community boosters called "Wildflowers and Whisky".
Now, if that wasn't enough, Jolene is also one of the ladies at the helm of the Banff Christmas Market so if you're planning a visit, do stop by the Tea House and say hello.
Earlier this week, Jolene unveiled her Quintessentially Canadian holiday blends featuring Green, Black and Rooibos Maple Tea and now, you're the proud owner of a tea house filled with Maple Black Tea to brew at home or the office AND if you happen to be in the area – go on Jolene's Tea Cocktail Crawl! Eight restaurants throughout Banff are serving up delicious tea-based concoctions (our favourite one is Mother of Earl at Chuck's Steakhouse) and this pocket-sized pamphlet has the all the recipes.
Have a peek at Jolene's 60+ blends and more gifts here. Place an order before December 7 to make sure it arrives before Christmas!
SABOR Restaurant/BODEGA Tapas & Wine Bar
Mini Paella Pan & Gift Certificate
Childhood pals Christian Mena and Lino Oliveira would tell you these past two years have been the most difficult for them alongside everyone in hospitality but despite the challenges restaurant owners have had to overcome, the one thing that continues to have me in awe of these guys is their incredibly generous hearts.
Typically a pretty quiet time for restaurants, over the past few years, Christian and Lino have turned August into their month of giving. On Fridays at SABOR – find lineups of people waiting for their annual fix of what I believe is the best fish and chips in town to support Santas Anonymous and Ronald McDonald House. On Saturdays at Bodega Sherwood Park, Chef Lino fired up a giant paella pan on the patio in support of the Boys and Girls Club of Strathcona. SABOR and all Bodega locations also joined 80 Alberta restaurants and created a cocktail for the 5th Annual Shaken, Stir & Strainbow campaign in support of the Skipping Stone Foundation. Nearly 15K was raised for local charities this year and I believe they are a prime example of the law of attraction. When we started working together almost a decade ago – only SABOR existed and well, today – they're about to open their 6th BODEGA location in Ellerslie.
These adorable mini paella pans from Spain are a perfect addition to hold olives and antipasti at your next tapas party or on a holiday charcuterie board and if you flip the paella card over – Chris and Lino would like to treat you to SABOR's signature paella at your next visit!
Amedei Chocolate – Tuscany, Italy
Toscano Red Chocolate
@amedei_northamerica / amedei.it
As many of you know, we never go to a meeting empty-handed nor does anyone leave a meeting with my clients and I without treats and Amedei Chocolate is one of Gino Marghella's favourite treasures to share after he's given guests at the shop a tour that usually ends in front of the Italian Centre Shop's epic chocolate aisles.  As one of Italy's best chocolate companies, it's no surprise Canada's Eataly locations are now also carrying the brand and we're so happy and introduction we made to Caffe Umbria Canada resulted in Amedei now being carried in their American cafes throughout the Pacific Northwest and Midwest.
Toscano Red is one of my favourites and sensory symphony with dehydrated strawberries, cherries and raspberries. Our pal Aaron Flamini from Amedei says to pop in in fridge and experience it chilled during summer months, but who is he kidding? Are any of us going to wait til summer to try this glorious grown-up delight? Savour it…
Find Amedei Chocolates at Italian Centre Shop year-round, Eataly Canada locations and Holt Renfrew over the holidays.
Wild Folk – Calgary, AB
Free-Spirited Sparkling Negroni
@drinkwildfolk / drinkwildfolk.com
One of the greatest things about working with the Italian Centre Shop is our exposure to so many local brands and when Wild Folk appeared on their shelves – it was hard not to take note. Their branding is SO beautiful! I'm such a sucker for the little details and after reading their story (founder and "flavour hustler" Dalia Kohen launched Calgary's first vegetarian restaurant concept, The Coup over 15 years ago) it was a no-brainer, including these zero proof, fizzy mocktails should be a bar cart staple for every host/hostess.
Trained as a health-focused vegetarian chef, Dalia spent much of her time turning classic and familiar flavours and recipes into nutrient-dense alternatives. An avid gardener and forager, her connection to the soil, seasonality, and market demand, bloomed these beverages and flavour profiles. Made up of complex blends of herbs, botanicals, and citrus rinds – Dalia is calling it "the REAL liquid confidence" and we couldn't agree more.
These beauties come in three flavours – Sparkling Negroni, Bees Knees and Vermouth Spritz – serve them chilled or on ice for the full effect. Dalia is a bit of a mad scientist (she's an absolute dynamo) and continues to experiment and develop new flavours to add to her offering.
Find Wild Folk's at Italian Centre Shop and various retailers, restaurants and pubs throughout Alberta or purchase them in packs of 4 online here.
Carbone Fine Food/Terra Foods – Calgary, AB
Tomato Basil OR Arrabbiata
From a culinary perspective, it's been so interesting to see iconic restaurants catapult themselves into the packaged goods business (especially during the pandemic) to not only satisfy their fan's cravings from anywhere in the world – but also as a way to stay top of mind, connected and have another revenue stream that's independent of the hospitality industry.
I think I've walked past Carbone in New York's Greenwich Village at least a dozen times in my life and the place is always bangin'. Inspired by mid-century Italian restaurants you'd find in the area, it has that super Italian-American vibe (big portions and big in personality) tv has made familiar to us. When Kyle at Terra Foods connected about Carbone's launch into Canada with their line of sauces, it was a great example of a brand that one would've normally had to travel to experience – now bringing themselves to grocery store shelves all over the country.
Should it be of interest: Carbone's developed "Marinara Delicato" a sauce free of onions and garlic for those who are allium intolerant, or who follow a low-FODMAP diet. I had a couple dining experiences with people who have this allergy earlier this year and it's a life long challenge they have to face. I think it's wonderful they'll be able to have a Carbone product to add to their pantry.
To your pantry – Terra Foods is adding one of two versions full of onions and garlic! Find Carbone products at Italian Centre Shop and various grocers/retailers all over North America.
*** BONUS GIFT FOR EDMONTON RECIPIENTS***
A Cappella Catering – Edmonton, AB
Holiday Take & Bake (Christmas Eve pick-up)
There's no doubt the next few weeks are madness for most of us but if you want to do most of the people on your shopping list a holiday solid – give them something they'd never think to buy for themselves but will continue to buy for themselves for many years to come. A Cappella Catering's Holiday Take and Bake dinner is a hearty turkey dinner spread for 4-6 people (or 3 people who get to take home yummy leftovers) and it really is the greatest timesaver of all time. The repeat business over there is so impressive and after more than 30 years in the biz…They are experts!
With so many Christmas parties that had been postponed for two years – it'll be harder to book smaller parties at restaurants so I highly recommend getting the team at A Cappella to do the hard work and set up an incredible buffet at the office or at the boss' house. For under $30 a person – their holiday feasts make for such an easy way to entertain AND they even pick up the dishes the next day.
A Cappella would like to treat our Edmonton recipients to a Holiday Take and Bake this year – ready for pick up on December 24 so you can enjoy yourselves. You deserve it!
Check out A Cappella's holiday menus here and follow the instructions on the certificate we've included to redeem your gift!
As 2022 comes to an end – thank you for you continued support and friendship of me, BONAFIDE, our clients and network. Thank you to graphic designers Destroy the Box, The Wayfaring Designer and Jonathan Herman for another year filled with fun and creativity, to Gary Park at Mountain View Printing for your continued support and friendship and to Gian and his team at Juicy Flutes for producing the box this year.
The last item this year is from Phoebe Fung at Vin Room, who has provided the final gift each year since we started sending out the BONAFIDE BOX in 2016…Please enjoy a mini bottle of Canella Pinot Rose and join us in a toast to a wonderful year ahead.
Wishing everyone a safe and happy holiday season and prosperous 2023.