This little engine that could turned FIVE this year! I can't believe it…Where did the time go?
My clients and I had a great year – considering the current COVID climate. It's been super busy and we continue to figure out our way towards our new normal.
We worked on some wonderful projects this year:
We sure have a lot to be grateful for…I also got on a plane for the first time since the pandemic started and had short but much needed trips to Vancouver and Toronto.
I like to think the BONAFIDE Box is a pioneer in the gift box craze and when looking back to 2016 at the very first edition featuring a panettone and biscotti from CANOVA, pasta and sauce from Gigi Importing, a cocktail shaker from Russell Food Equipment and bubbles with dog treats from Vin Room…We've come a long way!
As we only make 50 boxes each year – these coveted and highly-anticipated collection of products and services we've curated go to BONAFIDE's biggest supporters as a token of our gratitude.
I am so very proud of what my clients and I accomplished this year and the kind people we've met along the way. Thank you for being part of our #bonafidetribe and promoting us, referring business to us, championing us, and supporting us. We couldn't have survived this year without each of you. 
On behalf of our clients, we wish you a safe and happy holiday season! 
Merry Christmas to you and yours…
Jessie
INSIDE THE BONAFIDE BOX 2021

Amedei Chocolate – Tuscany, Italy
Toscano Black 
@amedei_northamerica/ amedei.it
Our very first virtual media gathering was a beautiful chocolate tasting via zoom featuring Amedei Chocolate sent all the way from Tuscany. North America representative Aaron Flamini walked us through the intense and secret process surrounding the making of Amedei products while Italian Centre Shop's Gino Marghella shared unconventional pairings to chocolate – like the king of cheeses, Parmigiano-Reggiano. To round out the expertise on our panel, Chef Rogelio Herrera from Calgary's ALLOY prepared a creamy and luxurious pot du creme and his signature flourless brownie.
As one of Italy's best chocolate companies, Amedei has carved out a space in pantheon of exceptional European chocolate-makers. Founded in 1990 by the Italian chocolatier Cecilia Tessieri, Amedei began producing pralines from a small facility in Italy and soon grew to produce a number of other chocolate confectioneries using their own grown cocoa beans and natural ingredients. In less than three decades, Amedei has grown to become one of the world's premier gourmet-chocolate production companies.
You can find Amedei Chocolates at Italian Centre Shop year-round and this year, Canadian luxury retailer Holt Renfrew is carrying Amedei's holiday collection.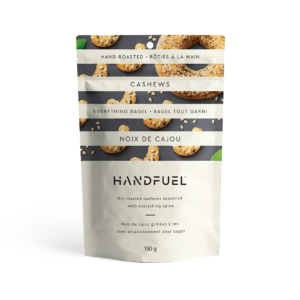 Handfuel – Toronto, ON
Everything but the Bagel Cashews
Lemon Marcona Almonds
After over a year long absence from the skies, we were very fortunate to travel for meetings and one of the coolest surprises on a recent WestJet flight was being provided with Handfuel for a mid-air snack.
Handfuel was one of the very first products we confirmed for our gifting this year… A brand I'd been watching for a while because of the high quality ingredients and flavour bomb they provided. Our favourite was the Lemon Marcona Almonds but they sent over their newest flavours and the Everything but the Bagel Cashews are straight up FIRE. We cannot get enough of these and lucky for us – they sent me both to share with you.
Find Handfuel products at Italian Centre Shop, London Drugs and Staples.
Caramunchies – Edmonton, AB
Salted Caramel 
@caramunchies / caramunchies.com
When I think the amazing makers I've met over the years thanks to the BONAFIDE Box, I think of people like Alysia Lok of Caramunchies. Talk about pure sunshine, it's amazing we hadn't cross paths in person but I'd been a huge fan since picking up a tub of her addictive snacks at Edmonton's 104 Street Market many years ago.
Fast forward to 2021, I had the pleasure of supporting Alysia with marketing advice and copywriting for her new packaging which will drop just before Christmas. Everyone we've shared a package of Caramunchies with has cursed us for adding a new snack to their pantry and despite what Alysia thinks – most agree, THIS IS JUST ONE SERVING. The resealable package is SO unnecessary! LOL
The Salted Caramel is my favourite and the O.G. – keep an eye on caramunchies.com for seasonal flavours (they are SO creative and fun!).
Pick up a bag (or two) at Italian Centre Shop, various farmers markets and gift shows, select Safeway locations and even Remedy Cafes in Edmonton!
AllSaints – London, UK
Scented Candle
Our business is built on relationships. Most businesses should be, actually… My rolodex (remember those?) is one of the most valuable tools I have when it comes to doing my job. This is more relevant than ever, but this year a decade-long relationship resulted in BONAFIDE supporting the launch of British luxury brand AllSaints' first Alberta location. The team at AllSaints has been styling my clients for years and I was overjoyed when I found out they would be opening in Chinook Centre this fall.
We kicked into high gear and despite COVID capacity still being top of mind, we rounded up AllSaints' biggest fans from our network and gave them the warmest welcome to the neighbourhood.
One of our very favourite new products from AllSaints are these scented candles. I'm crazy about this cement pot it comes in and each scent gives off a vibe…Sunset Riot is woody and floral – like how you want your man to smell after chopping wood all afternoon, while Metal Wave is warm and creamy like what your kitchen should smell like if your man had been baking you cookies and Incense City is a little spicy like…me – I actually wear this fragrance! I'm curious to see how many of you will keep this beauty or gift it. Let me know!
You can find these luscious sexy candles in-store at AllSaints, online and exclusively at Nordstrom.
The Westley Hotel – Calgary, AB
Postcards by artist
Expect the unexpected when you check into Calgary's newest hotel. Revitalized and transformed by Frank Architecture,
The Westley Hotel expertly combines vintage and modern looks through a refined colour palette to represent wealth and success, while embracing aspects from the building's 70s heritage. Nodding to the building's heritage, accents of velvet, fringe and brass throughout both public and private spaces creates a comfortable, yet chic, aesthetic that embraces a modern-meets-vintage setting. Find the ultra chic Mexican restaurant Fonda Fora here too!
I'm crazy about doing meetings in their lobby cafe – it's so easy for everyone to get to and the service is top-notch. We've been recommending stays to vendors and visitors alike – our friends from AllSaints, who are on the road constantly all over North America, said it was one of their favourite hotel stays – EVER.
The amazing Lisa Lepage, who is at the helm of their sales and marketing team, was kind enough to provide a set of postcards that are duplicates of the artwork featured in their rooms and a discount on a visit. Alternatively – use this link to book with BONAFIDE's corporate rate.

Jack59 – Edmonton, AB
Shampoo & Conditioner Bar Set
Edmonton-based Jack59 was brought to my attention last Christmas when someone entered a contest and identified their Shampoo & Conditioner Bars as a great addition to the BONAFIDE Box. I started doing my homework and was SO impressed but when I realized it was only being sold out of Farmers Markets – I was intrigued. I reached out to founder, Vanessa Marshall and was just dumbfounded…Jack59's sleek brand and eComm was a complete COVID-pivot.
Like many pandemic success stories, Vanessa saw COVID-19's retail closures as a chance to revisit her business model, design new packaging and move her business online. Add to that a new lease on life and a renewed energy to create new products (stay tuned for a line made especially for fur babies!) – this small business is booming and I'm super excited to see what's in store for 2022. Take their hair quiz to see which products are best for you!
Jack59's Shampoo and Conditioner bars are plastic-free, sulphate-free, silicone-free, vegan and gluten-free. It's perfect for traveling and for those who yearn for tropical scents while we're still a little landlocked – just close your eyes and pretend you're shampooing your hair after a jaunt on a beach in Hawaii.
To explore more about Indigenous-owned, female-owned and operated, Alberta-made products by Jack59 – hit up their website. There are fantastic stocking stuffers up for grabs!
4th Street BIA – Calgary, AB
Hoopla Doughnuts Water Bottle
Vin Room Fur Baby Fare
@4thstreetcalgary/ 4streetcalgary.com
@hoopladonuts / hoopladonuts.ca
@vinroomyyc / vinroom.com
We had the pleasure of working with an old friend and graphic designer extraordinaire, Jonathan Herman this year (we first crossed paths with each other's work a decade ago when he was in agency land and I was covering a mat-leave at Chinook Centre!) on the rebranding of Calgary's 4th Street BIA.
Where heritage and modernity meet, 4th Street is daring and undeterred. It's where residents and businesses alike show pride in their surroundings, community and each other. Shopping, dining, health/beauty and professional services – you can sure get a lot done on 4th Street but let me tell you – it's THE place to hang out if you've got a dog. 4th Street is quickly becoming one of Calgary's most dog-friendliest neighbourhoods with the #dogsof4thstreet summer promotion and the 4th Street Pup Club launching in 2022.
Two of my favourite businesses on 4th Street were kind enough to include a little something for you this year – a boujee waterbottle from our pals at Hoopla Donuts (Jonathan created their brand too!) and a Fur Baby Fare kit from Vin Room which are offered to dog owners year-round, dine-in or delivery at all locations!
Kick Point Digital Marketing – Edmonton, AB
Stop Race Based Hate – DECAL
Back in late-March I was just horrified and devastated about the Atlanta spa shootings…Eight people were killed, six were Asian women. Race-based hate against Asians people during the pandemic had reached a breaking point. I cried and reached out to Carmen Cheng and Linda Hoang to talk. That's when an idea started about creating space for others who felt the same anger, sadness, and frustration to make a collective statement.
Within a couple days we reached out to our networks of Alberta-based restauranteurs, chefs, and culinary professionals – 60+ Asians in the Alberta food community pledged their support to take a united stand in solidarity against racialized hate crimes. From there, our efforts snowballed and included a number of virtual self defence sessions by Kaitlyn Molo and Janan Jomha of Elite Taekwondo, interviews on Global Edmonton and CTV Morning News and our friends at publications The Tomato, Culinaire and Savour Magazine donated full and half-page ads in support of the local Asian community.
What started as an immediate response to the violence targeting East Asian and Southeast Asian communities evolved into something bigger and we connected with Laura Salter and the team at Kick Point, an Edmonton-based digital marketing agency for help. Over the past few months – we've been working collaboratively to create a web-based resource to act as a tool for those experiencing race-based hate, who want to learn more about allyship and a safe place to ask questions. A date for this website launch is TBD but we cannot be more appreciative to the team at Kick Point for their support, time and commitment to this very worthy cause.
You're now the proud owner of the very first decal displaying the graphic they designed for us along with a postcard with the powerful image that started this Alberta-based movement. More to come…
Tastia – Edmonton, AB
Creamy Hazelnut Spread
One of my favourite things about the BONAFIDE Box is being able to put fantastic products in the hands of people in our network who know great quality when they see it and love to share. That's exactly what happened this year when Edmonton-based food blogger Andrea Chan gifted us with a jar of Tastia Hazelnut Spread and we were mind-blown. It's like Nutella minus the chocolate! We literally ate it by the spoonful and crushed a jar in just a couple weeks. This stuff is the real deal. 
Did you know 70% of the world's hazelnuts are grown in and around Ordu, Turkey, near the Black Sea? The rich soils and favourable climate create excellent conditions for growing hazelnuts, and Tastia uses traditional recipes to combine these excellent nuts with the highest quality ingredients to create creamy, smooth or crunchy nut butters and spreads. When we met founder, Emre Erbasli, it was clear how passionate he was about his product and we couldn't wait to share it with all of you.
This is going to be the perfect addition to a dessert board for dipping cookies and fruit in but I get the sense some of you will find a way to use this in holiday baking this year.
Tastia can be found at Confetti Collective, Uproot Collective and Made Local Markets all over Alberta.

Gigi Importing – Brampton, ON
Casanova Rose Balsamic Vinegar
@gigi_importing  / gigiimporting.com
When I say I'm the luckiest gal I know, I think of the 6 years Flavio Vanacore and his sister Mena from Gigi Importing have supported this initiative and labour of love. Gigi Importing has included something in the BONAFIDE Box – and each year they pick something that is just on the cusp of exploding as a food trend (last years' Amarena Cherries are a top seller at Italian Centre Shop locations!) and this year is no exception. 
Rosé Balsamic Vinegar is a delicious treat that highlights everything we enjoy about rosé wine: bright acidity and soft, subtle aromas of crabapple, watermelon, raspberries, strawberries, and wet stone. Traditional balsamic vinegar is typically made from a combination of Trebbiano, Lambrusco, and/or Sangiovese grades, Rosé Balsamic is made from the Pinot Nero (Pinot Noir) grape variety. This grape produces earthy, but elegant wines that translate beautifully into a well-balanced, clean, cool, crisp and dry vinegar. For a delicious vinaigrette, combine it with your favourite olive oil and Dijon mustard. Pairs well with citrus olive oils and would be stunning in a Nicoise Salad, drizzled over warm fingerling potatoes or sautéed beans, on Goat Cheese and even in cocktails or spritzers!
I'm hooked. I think you will be too…
Dript Gourmet – Toronto, ON
SapFire – Hot Maple Syrup
@driptgourmet / driptgourmet.com
Ok – so we like things a little spicy and I'm obsessed with Dript Gourmet's SapFire Hot Maple Syrup.  This pure Ontario maple syrup is infused with a blend of fresh chillies for heat. Brunch at BONAFIDE HQ has been kicked up a notch mixing sweet and savoury (chicken and waffles, anyone?) – these syrups are also unreal when tossed with Brussel sprouts and a splash of fish sauce. Mouth-wateringly addictive. Add a few glugs in marinades, salad dressing and even tea… I think this would also work great in a holiday hot Hot Toddy, are you down for a tipple? 
You'll find this, a salty, and a smokey version at Italian Centre Shop locations.
Jolene's Tea House – Banff, AB
Creamy Earl Grey Tea
@jolenesteahouse / jolenesteahouse.com
Some of you may recall an amazing custom tea blend included in the BONAFIDE Box a few years back by Natur'el Tea…Well guess what? They've rebranded and have found a new home on Banff's newly-renovated Bear Street as Jolene's Tea House! My dear friend Jolene Brewster has joined forces with Jess McNally and are now hand blending organic teas in the heart of the Rockies in one of Banff's oldest buildings, the Ol Crag Cabin.
It has been a joy launching this new brand with the gals and we've had so much fun hosting media and guests to meet and greets at Jolene's Tea House followed by a Bear Street Cocktail Crawl featuring tea-based cocktails at Banff Hospitality Collective properties. They've been an absolute smash and it's been so nice to see visitors influenced by our guest visits!
This year – Jolene and Jess wanted to include their top seller for you to try – Creamy Earl Grey…I can't wait to see how many of you use this in shortbread and caramels over the holiday season. Of course, my favourite way to enjoy it is in a London Fog with a splash of vanilla and steamed milk. So cozy right? Stop in and visit Jolene and Jess if you find yourself in the mountains this ski season. Tell them we sent you!
Have a peek at Jolene's 60+ varieties and locally made gifts here. Place an order before December 7 to make sure it arrives before Christmas!
Italian Centre Shops – Alberta
@italiancentreshop / @italianctryyc / italiancentre.ca
What a year we've had with the team at Italian Centre Shop. Of course – as an essential service it's been business as usual. but it's been far from that on the marketing side. Gino's wife, Sara, recently joined the marketing team as a coordinator and has taken over their Edmonton and Calgary social media channels (totally rockin' TikTok) while BONAFIDE continues with the brand's high-level strategy with Gino and Ryan from their marketing team. The Calgary team sold 824 panini in partnership with the Calgary Flames to support Education Matters in the spring and the brand launched their first-ever Advent Calendar just a few weeks ago. If you blinked – you may have missed it… It sold out at all five locations in minutes!
We had an absolute blast planning their Sherwood Park opening – it was so awesome to take key learnings from the Calgary opening five years ago and apply them to this exciting event. It was the first time ever Teresa and her team saw a line-up of hundreds at the ribbon cutting, and let me tell you – this community was a buzz.
Along with every store opening comes some swag, so the team saved these commemorative tote bags for me to share with each of you this year, along with Day 5's treat in the Countdown to Christmas Advent Calendar and a postcard with the piece we commissioned for the store opening by Edmonton-based artist, Jennie Vegt who painted this piece on Grand Opening day!

Allpa Microgreens – Calgary, AB
Choice of microgreens – VOUCHER
@allpamicrogreens / allpaverticalfarms.ca
We kicked off the year with an introduction by our good friend Marika from Peaseblossoms to these three young lads. Founder Andrey Salazar and co-founding partners Guillermo Borges and Zakk Tambasco met working part-time at a local hardware store while attending university. The trio's common interests in business, technology and sustainability led to the launch of ALLPA in 2019 – a hydroponic microgreen farm based in Calgary, Alberta.
Named after Mama Allpa, the goddess of the Earth and fertility in South America's Inca religion – their civilization was the first to grow vegetables in water. We are excited to support young local entrepreneurs and introduce them to our extensive national network of chefs, retailers, culinary experts, food writers, tastemakers and influencers. Enjoy a sample of their microgreens – redeemable at Italian Centre Shop Calgary or Sunterra at Lendrum Centre in Edmonton.
These guys had an outstanding year starting at the Bearspaw Farmers Market and are growing their business. Find these on the shelves at all Sunterra Market locations, Italian Centre Shop Calgary and Chongo's at Crossroads Market!
Field Notes – Edmonton, AB
"Don't Call Me Sweet Pea" Amaro
@sipfieldnotes / sipfieldnotes.com
How awesome is it when someone from your radio days partners up with a farm and starts making an Italian-style Amaro?
Field Notes is a partnership between Faaiza Ramji, an Edmonton-based entrepreneur, and Lindsey Good, a grower based in Carstairs, AB. Did you know that products like wheat, pulse, and peas are being grown in Canada then shipped to places like India, Italy and China then sold back to us for double and sometimes triple the price? Crazy, right?
Faaiza was inspired to create something special to honour her love for agriculture, food and beverage and enlisted Fort Distillery to help create an herbaceous bittersweet concoction crafted from distilled Alberta field peas and infused with botanicals, flowers, herbs, and roots from across the prairies. Complex, perfect for pre and post-dinner drinks with natural remedies to aid in the digestion of a delicious meal. This is their take on an Italian classic. It's so unique and interesting to the palate.
Alberta's top mixologists agree! Keep an eye out for this product on cocktail menus all over the province. Canmore's Sauvage Restaurant is among the first to serve it in their savoury cocktail called "Horse & Honey". I really enjoy drinking this on ice with a splash of FeverTree tonic. Make sure you tag @sipfieldnotes when you try this…It's so cool!
Find it at Vine Arts and Sherbrooke Liquor.
A Cappella Catering – Edmonton, AB
Holiday Take & Bake Package – VOUCHER
@acappellacatering / acappellacatering.com
Holy smokes – what a year for A Cappella Catering! COVID-19 wasn't good to the hospitality industry and especially not the catering biz, but A Cappella turned 30 this year and I gotta say – this team has grit.
Their can-do attitude had operations expand to providing food services to the newly-reopened Fort Edmonton Park, the creation of a Friends-themed dinner package gained media attention before the highly anticipated reunion special and inclusion in this year's Tomato Top 100 for their Southern BBQ Take & Bake Dinner. My favourite A Cappella moment this year…Co-owner, Kim Mahoney, overcame her fear of cameras and did LIVE Zoom segments on both Global Edmonton and CTV Morning Live!
I'm all about saving time over the holidays and this is the 2nd year the team will have Holiday Take & Bake Dinner available throughout the entire season. Todd, Kim and the gang wanted me to make sure each of you in Edmonton has a chance to experience what the buzz is all about (they are DELICIOUS!) so please enjoy a full turkey dinner with all the trimmings on us.
UNBELTS – Edmonton, AB
Hybrid Belt
@unbelts / unbelts.ca
Ethical belts for all bods. These folks are speaking my language! I love the body-positivity Edmonton-based UNBELTS stands for – and this small, but very nimble, business is making waves. I could tell you a million reasons why I wanted to include them in the BONAFIDE Box this year… These belts are expandable, machine washable, prevent visible butt cracks, are made from plastic bottles, and they don't set off airport alarms… The list could go on and on.
One of my favourite things about this brand is the founder. Claire Theaker-Brown is probably one of the most interesting people I've ever cross paths with (check out her TEDx ShanghaiWomen talk "A Better Made In China" here.). They have corporate social responsibility top-of-mind (even donated hundreds of masks in 2020 to schools and teachers) and she was kind enough to include a Hybrid Belt for each of you.
Check out some more great ideas for holiday gifting here.
Peaseblossoms Florals & Stuff – Calgary, AB
Lavender Eye Cloud
My dear friend Marika Styba has been part of my life for nearly 15 years is the owner, artist and creative mind behind Peaseblossoms – BONAFIDE's official florist – and she hand crafts each of these beautiful Eye Clouds filled with lavender imported from France. Perfect for de-puffing eyes, soothing migraines and overall rest and relaxation – pop this in the freezer for a little extra soothing on hot summer nights or keep it under your pillow for the sweetest dreams like I do. I just love getting a whiff of it as I'm dozing off after a long day.
Have you ever met anyone who can literally make ANYTHING? That's Marika and while so many small business owners struggled this year with COVID-19 restrictions, construction and road closures in our neighbourhood — this firecracker and mom of three made her voice as an entrepreneur heard, found time to help me haul a 7ft plant up to my condo, framed my beautiful paintings by Michelle Renaud Artworks and made incredible ceramic and textile treasures you'll find in her Beltline shop and at Christmas Markets throughout the holiday season. Check out her interview on Canada's Podcast with Mario Toneguzzi here.
Advocates for local small businesses – Marika and her neighbours are a reminder of how important it is to shop local this holiday season. When we do, the money we spend goes right back into our community.
As 2021 wraps up – I wanted to say thank you for your words of encouragement, continued support for me, my clients and your interest and excitement for the BONAFIDE Box each year. Both recipients and our fans at large love to see what we're cookin' up with our clients each day and we are truly humbled.
Thank you to graphic designers Destroy the Box, The Wayfaring Designer and Jonathan Herman for being such awesome collaborative partners in 2021 and Gary Park at Mountain View Printing for your continued support and friendship.
The last item included in this year's BONAFIDE Box is a mini bottle of Prosecco courtesy of Phoebe at VR Wine.
Cheers to us for surviving another pandemic year…Let's toast to an even bigger and brighter 2022.