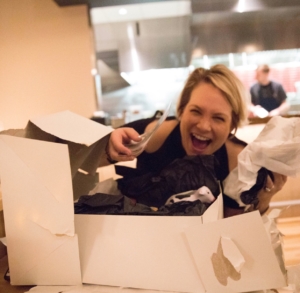 It's our favourite (and most gruelling) project of the year. With incredible design by Chris McWilliam at Destroy the Box and production expertise by Gary Park at Mountain View Printing of a beautiful booklet outlining the box contents, this labour of love is our way of saying thanks to 50 of our closest friends and supporters.
Thank you to the following people who helped us pack, wrap, ship and deliver these tokens of our appreciation: The Oh Family, Chef Rogelio and ALLOY Dining, Ashley Meller, Theresa Tayler, Carla Owczarek and Perla Bautista.
2017 CONTRIBUTORS
Caffe Umbria Canada, Ono Poke Co., Real Treat Kitchen, Beverley Hotel, Mountain View Printing, Prairie Chick Prints, Russell Hendrix, Natur'el Tea, Switzerland Cheese Canada, Vin Room, Italian Centre Shop, Gigi Importing, Empire Provisions, Theobroma Chocolate, Zwilling Canada
Find out more about this years' box here.